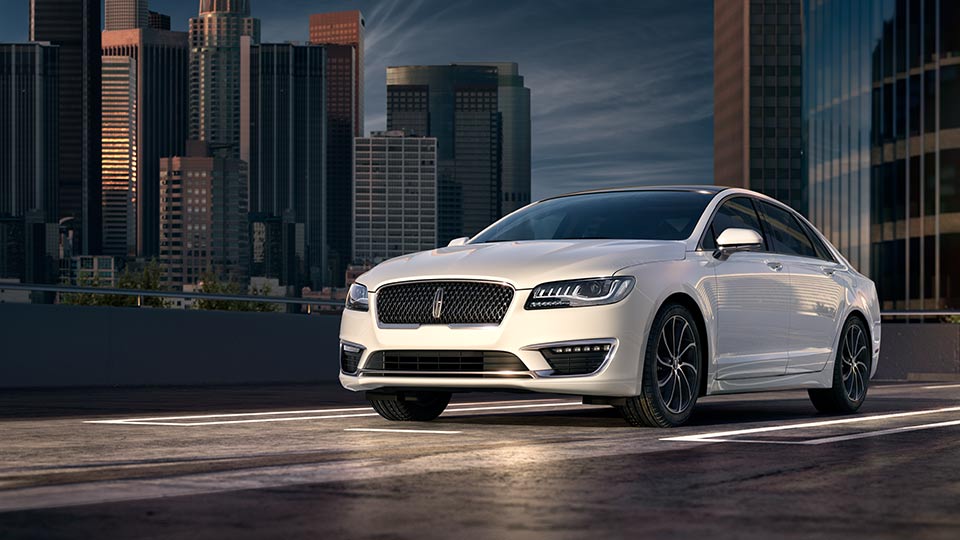 The All New 2017 Lincoln MKZ
Power. Play. Redesigned. Responsive. Refined.
Pick yours out today.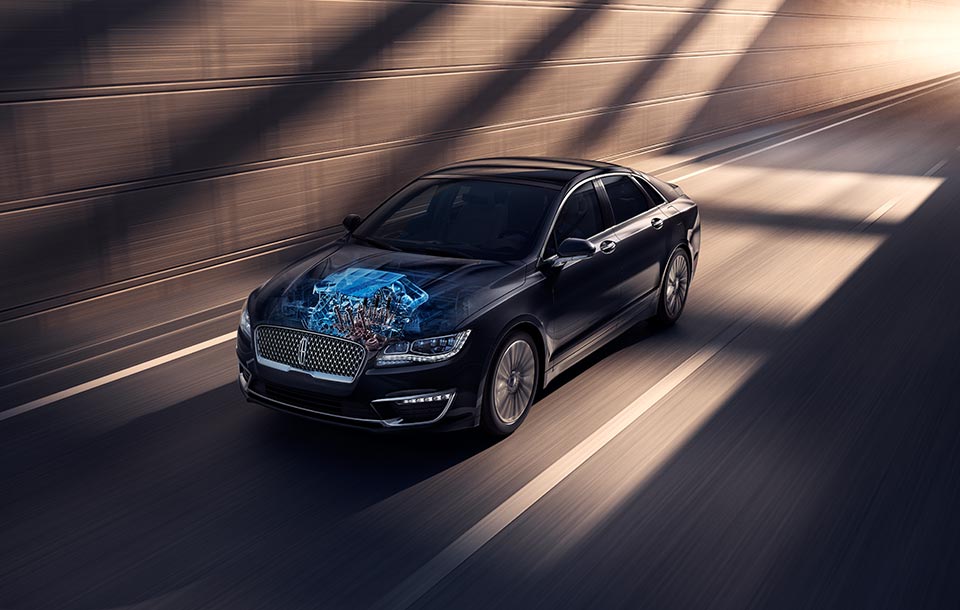 Performance
3.0L 400-Horsepower Engine
Outer beauty. Inner Strength.

The Lincoln Motor Company has gone to extraordinary lengths to give the exterior of the 2017 MKZ an exceptional level of grace and elegance. An equal amount of effort has been applied to develop and harness the capabilities of an available 3.0L GTDI engine.* This engine, projected to deliver 400 horsepower* and 400 lb.-ft of torque,** makes the 2017 Lincoln MKZ one of the most powerful and compelling Lincoln vehicles to ever take to the road.

*Late availability. Tested with 93-octane fuel.**When equipped with available AWD.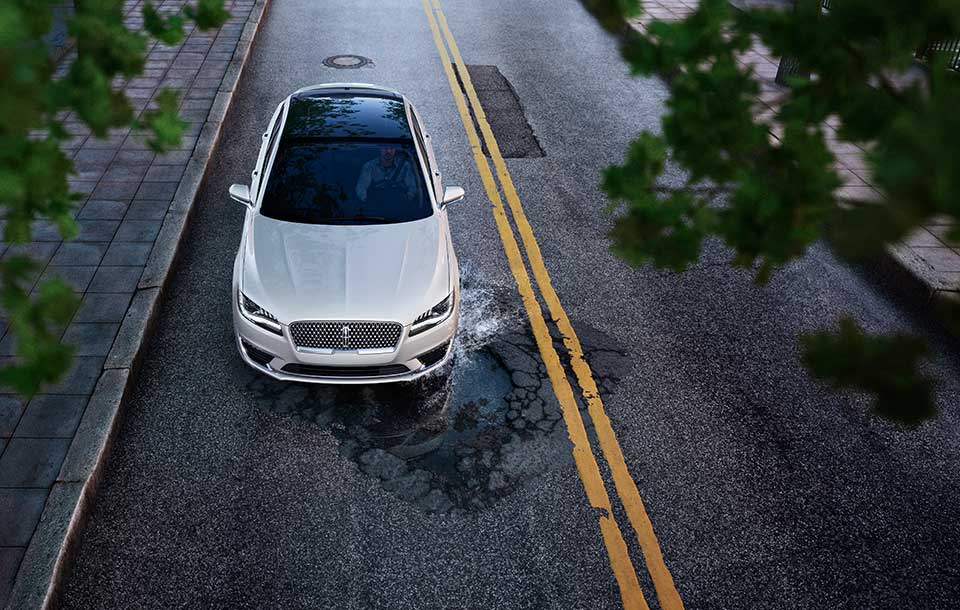 Driver's Package
The 2017 Lincoln MKZ is a true driver's car. To make the driving experience even more distinctive, the available Driver's Package* combines Dynamic Torque Vectoring, a sport-tuned suspension and revised continuously controlled damping. A unique grille, 19-inch wheels and painted brake calipers round out the exterior appearance while a unique interior theme and multicontour seats complement interior styling.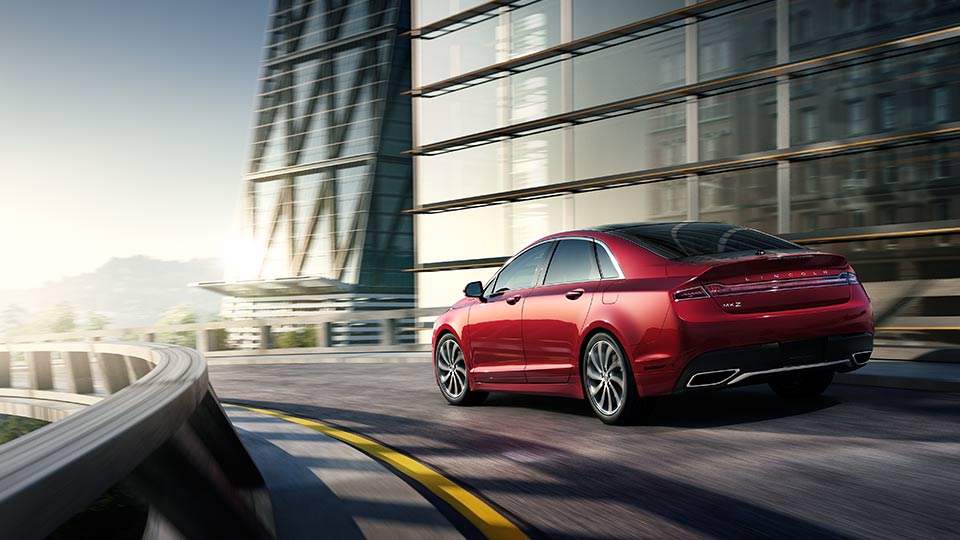 Dynamic Torque Vectoring
Power with purpose.

Raw power can turn heads, but refined power is what truly deserves your attention. Dynamic Torque Vectoring, part of the available Driver's Package,* transfers power on demand to the appropriate rear wheel while driving through corners. This system enhances cornering agility without compromised ride comfort, which results in a smooth and seamless drive experience.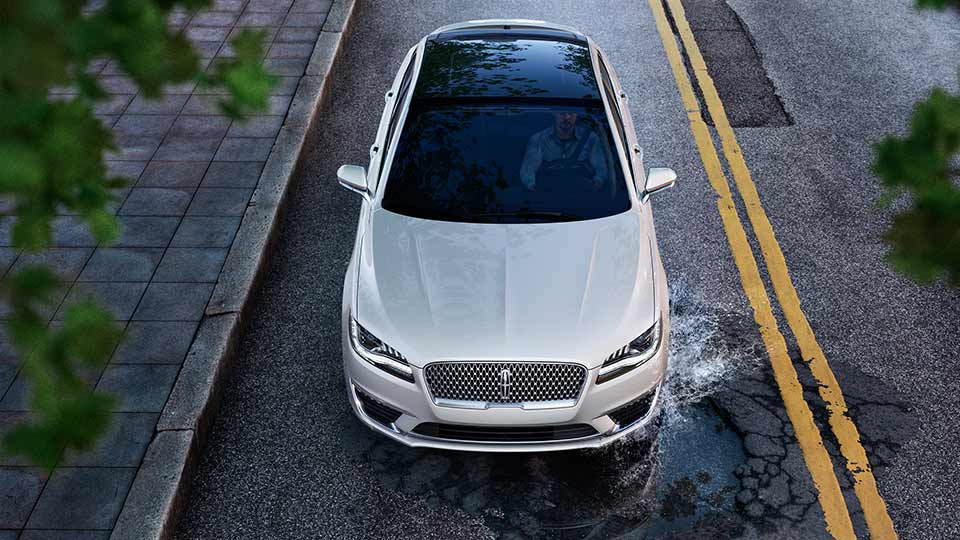 Lincoln Drive Control
The comfort of control.

Road conditions can change in an instant, which is why we created Lincoln Drive Control. This suite of drive-enhancing technologies including continuously controlled damping, electric power-assisted steering and active noise control helps to deliver greater control while offering a tailored driving experience.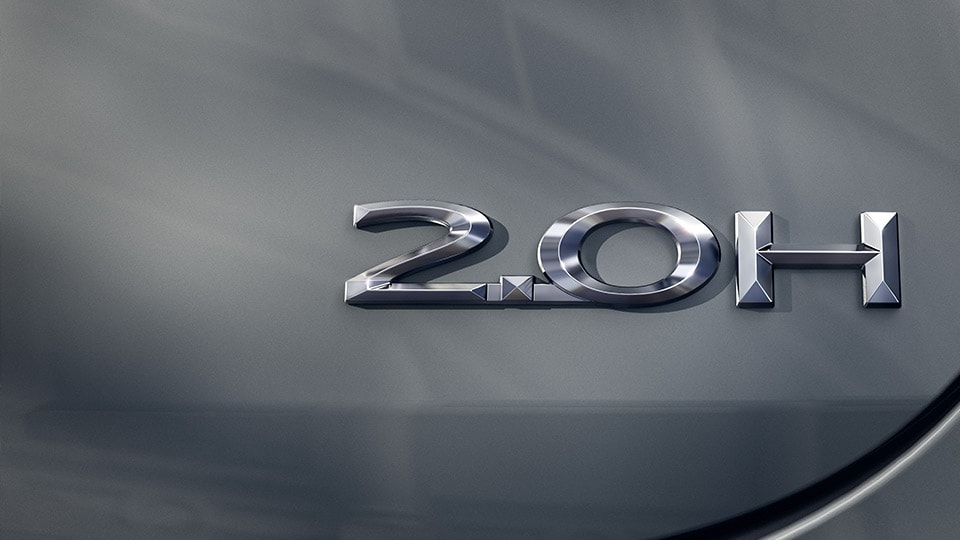 MKZ Hybrid
The similarities are surprising.

The shared features between the MKZ Hybrid and its gas counterpart go well beyond the exterior. Designers and engineers worked hand in hand to deliver a hybrid powertrain- while keeping almost every surface, button, knob and interior finish exactly the same.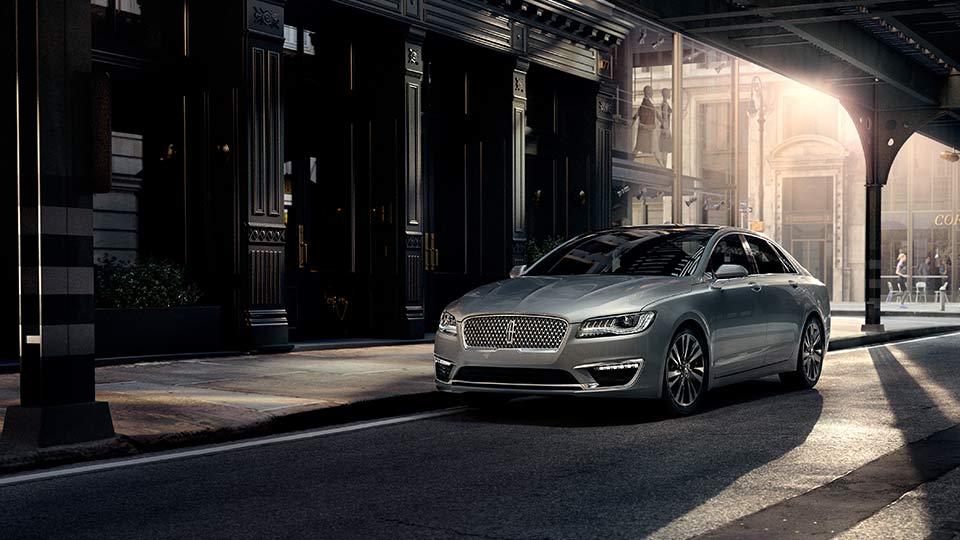 Exterior
New Design DNA
A look of distinction

With eyes looking forward, design teams distinctly redesigned the 2017 Lincoln MKZ to offer more sleek and elegant lines. The new front end establishes a strong sense of power and confidence without being overly aggressive. With one glimpse, it is easy to see that the Lincoln MKZ calls out to be driven.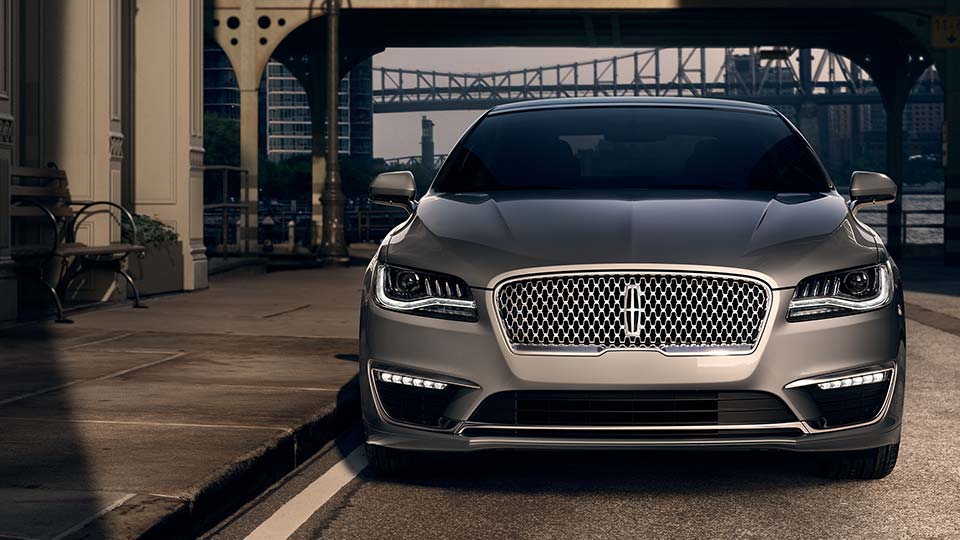 Lincoln Signature Grille
A signature statement.

The repeating Lincoln Star motif and new one-piece Lincoln signature grille speak with confidence. The Lincoln Star emblem is poised in a slight upward angle as if in preparation to launch itself on a thrilling and luxurious journey.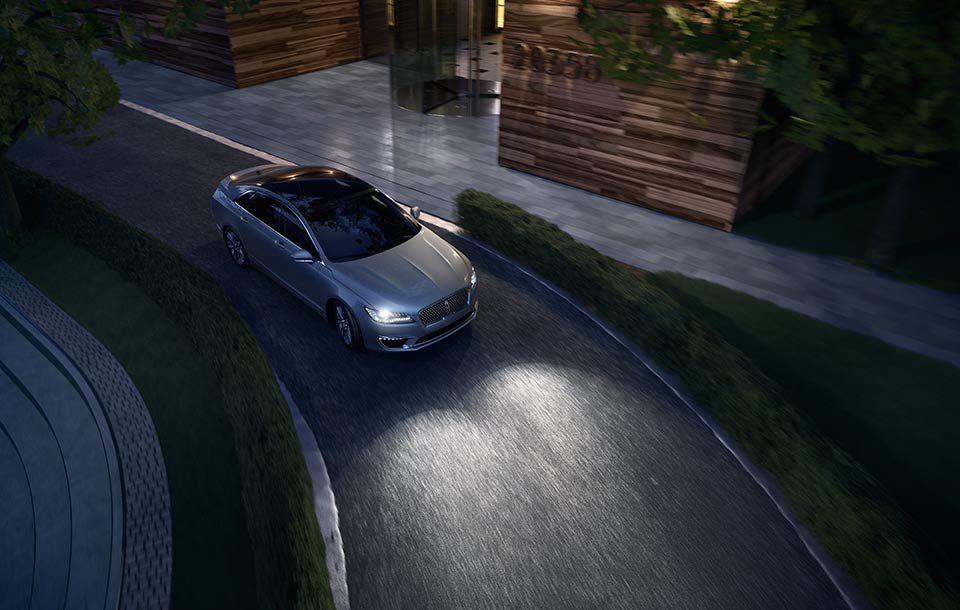 Adaptive Headlamps
For the curves ahead.

A straight line is the quickest path but not always the most enjoyable. To enjoy those drives at night, the HID or available LED adaptive headlamps turn in tandem with the steering wheel to help drivers see around corners.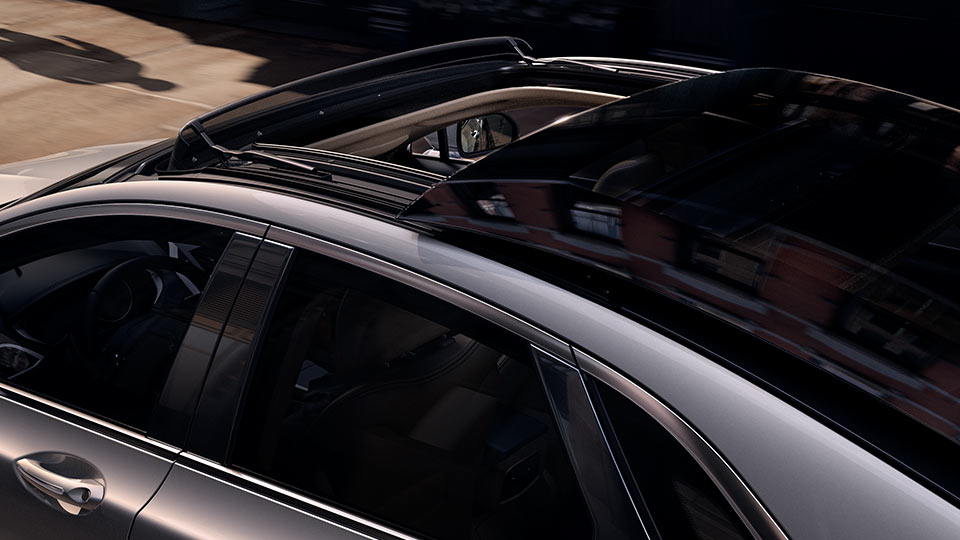 Panoramic Glass Roof*
For the curves ahead.
Alter your outlook with the simple press of a button. The fully retractable panoramic glass roof opens up new worlds and new experiences. With easy-to-use push-button activation, a single pane of glass rolls back to create the largest opening among sedans.**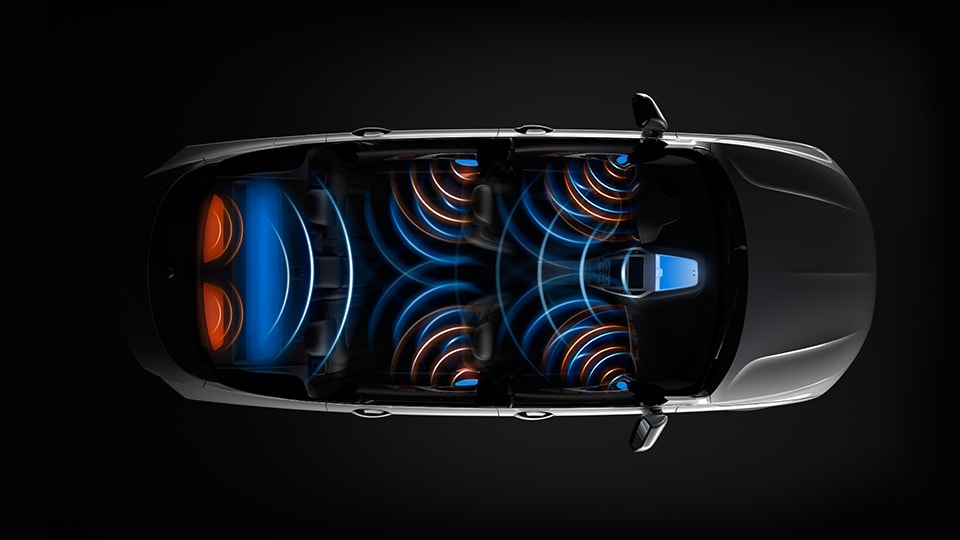 MKZ Highlights
20 Speakers
With an available Revel® Ultima System. Revel® is a trademark of HARMAN International Industries, Incorporated. All rights reserved.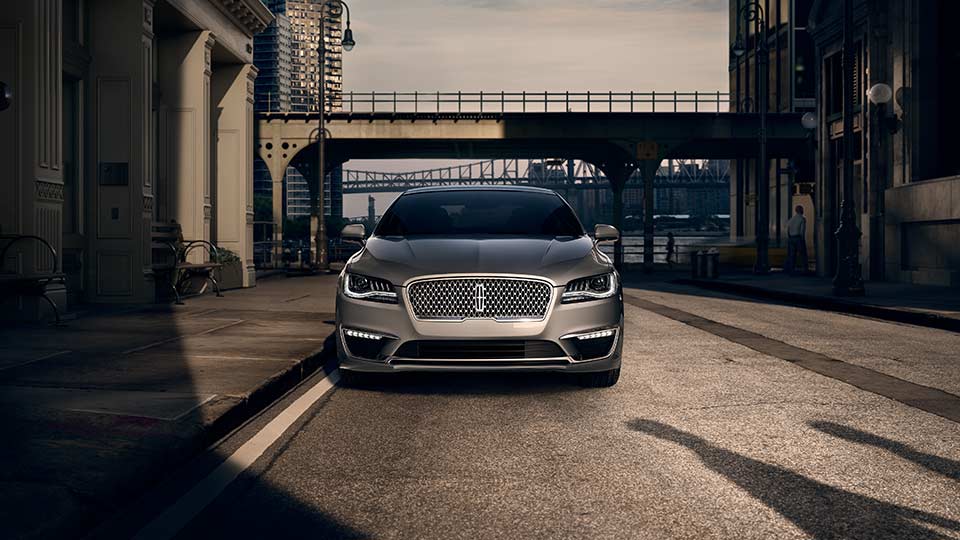 400 Projected Horsepower*
*From an available 3.0L GTDI engine with AWD model tested with 93-octane fuel. Late availability.

400 Projected lb.-ft of Torque
From an available 3.0L GTDI engine tested with 93-octane fuel. Late availability.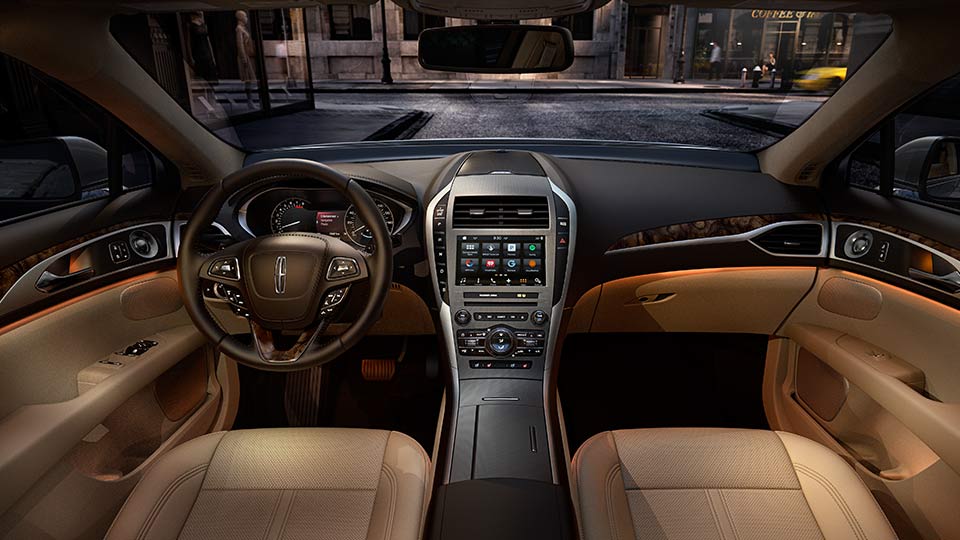 Interior
Revel® Audio
Leave no note unheard.

Dedication to performance, authenticity and craftsmanship makes Revel Audio the perfect automotive sound system for Lincoln. The available 14-speaker Revel Audio System and available 20-speaker Revel Ultima System in the MKZ surround you with a sound experience that brings every note to life. To provide a more meaningful audio experience, the doors were designed to properly house speakers for enhanced sound quality.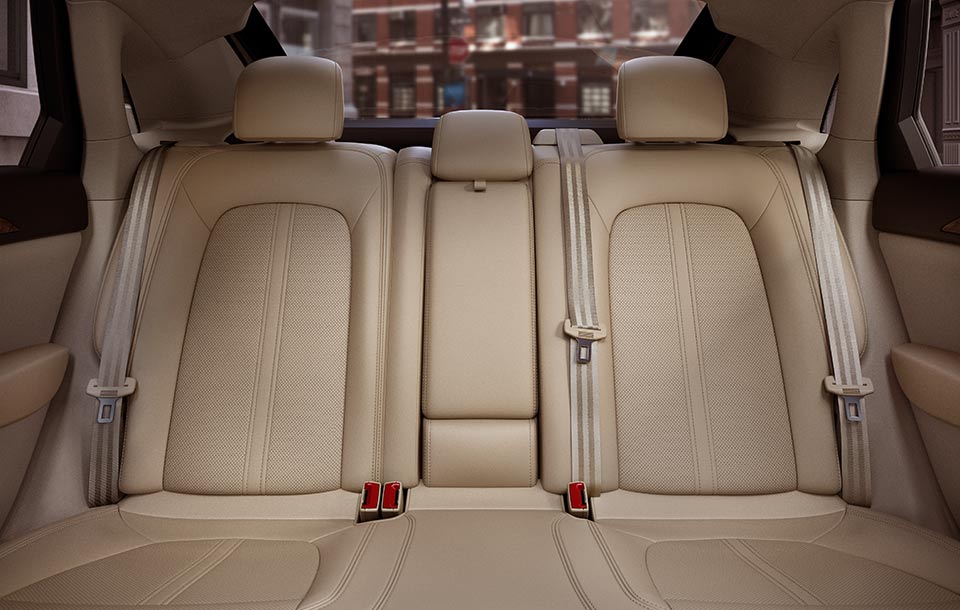 Interior Color Palette
Be a product of your environment

Our surroundings can greatly affect the way we act and feel. The Lincoln MKZ interior color palette, including Cappuccino and Ebony, has been designed to provide feelings of confidence and strength. The all-new Jade Gray* interior creates a welcoming sense of sophistication, while Terra Cotta* accents complement a thrilling driving experience.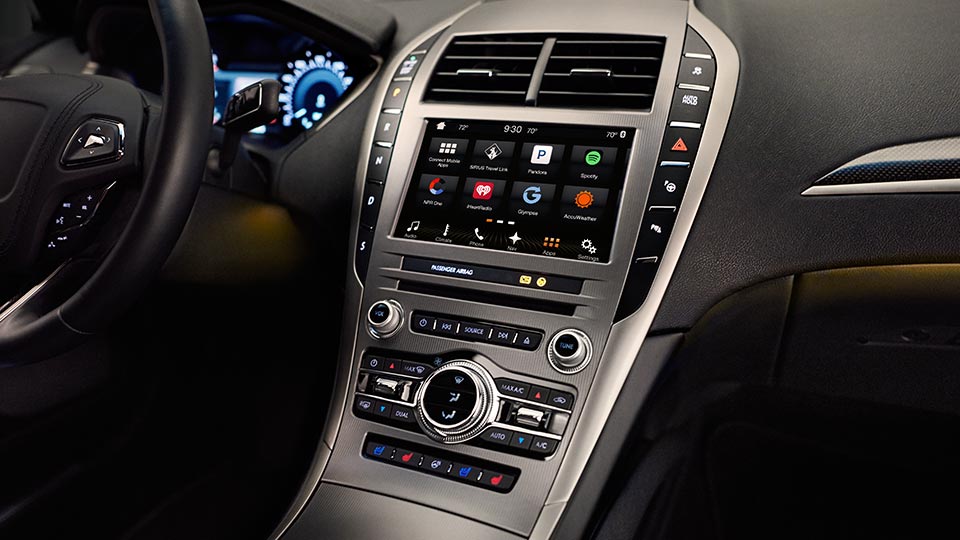 Redesign Control Panel
Everything in its place.

Technology is an ever-present and often intrusive element in our lives. Recognizing this, our designers took a driver-focused approach when creating the central control panel in the 2017 Lincoln MKZ. This exploration resulted in the intuitive placement of mechanical knobs and buttons as well as the repositioning of media ports and electrical outlets for seamless use. By leaving technology overload in the rearview mirror, the 2017 Lincoln MKZ brings the thrill of the drive to the forefront.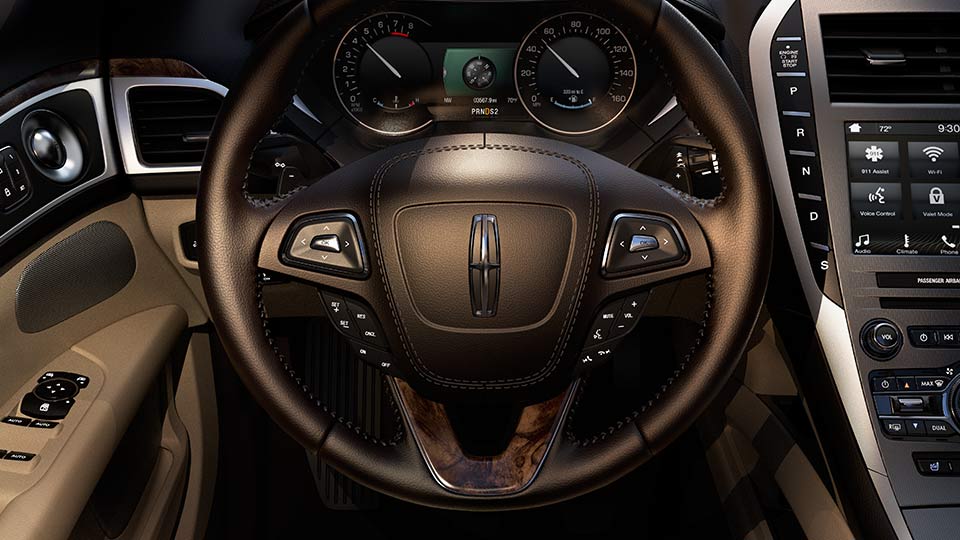 Craftsmanship
Driving is in the details.

A Wollsdorf-leather-wrapped steering wheel, more sculpted and tighter pillar and door-trim work, optimized speaker placement and high-end interior surface materials combine to create a visually stunning cabin experience.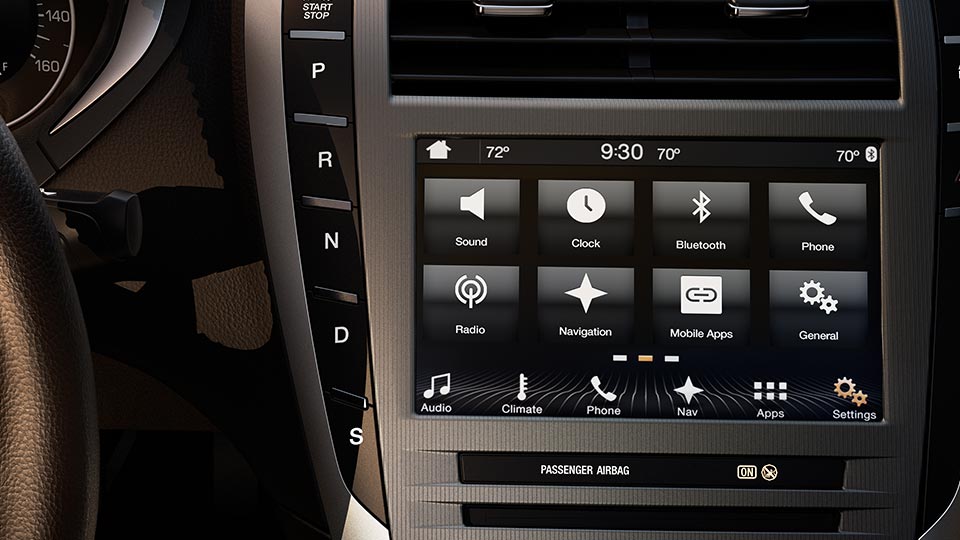 Technology
SYNC® 3
Just say the word.

Say hello to SYNC 3. In fact, say almost anything. Capable of understanding voice commands, SYNC 3 is our latest in voice-activated technology.

And with its new easy-to-use design, a new interface and new features, it's definitely worth talking about.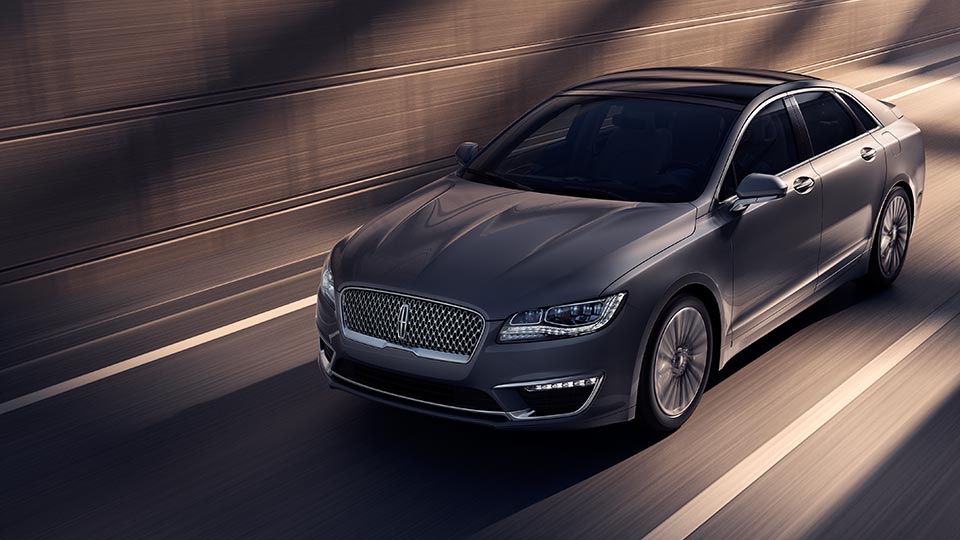 Adaptive Cruise Control with Stop-And-Go
Engage and enjoy

The evolution of adaptive cruise control with Stop and Go* capability is bringing new meaning to an enjoyable and confident drive. When the MKZ is in adaptive cruise mode, a radar scans the road ahead and detects slower traffic ahead. The MKZ automatically brakes and accelerates to keep you at your set speed or follows with the pace of traffic when speeds are below your set speed. With the addition of Stop and Go, the feature can bring your vehicle to a complete stop in stopped traffic and restart it as traffic begins to move.**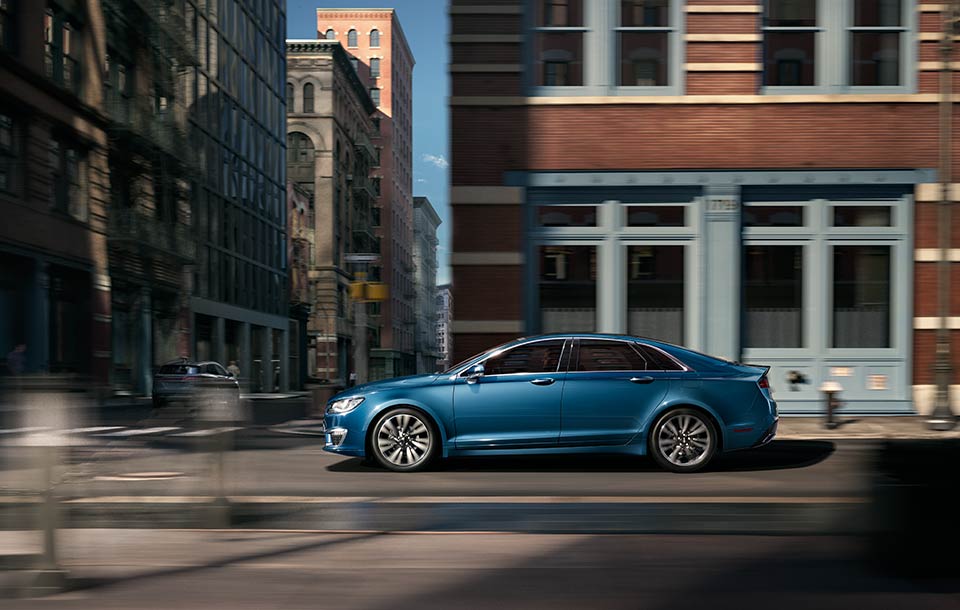 Pre-Collision Assist with Pedestrian Detection
Split-second security.

Available Pre-collision assist with Pedestrian Detection* is our next generation of driver assist technology.  Pre-Collision Assist with Pedestrian Detection uses radar and camera technology to scan the roadway ahead and, if another vehicle or pedestrian is detected, provides a warning to the driver.   If the driver does not respond in time, the system can automatically apply up to full braking force to help reduce the severity of or even eliminate some frontal collisions.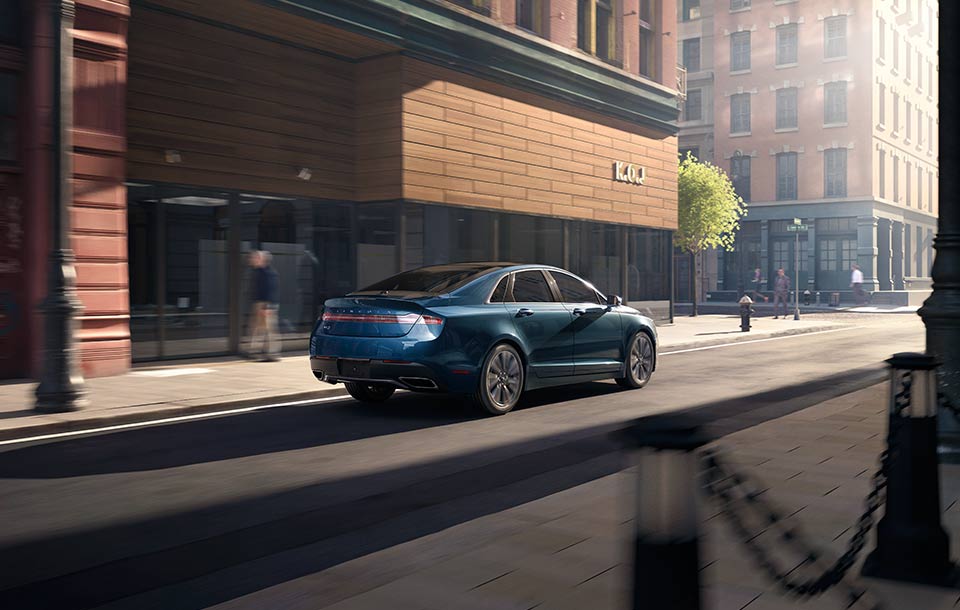 The New 2017 Lincoln MKZ - Power with Purpose